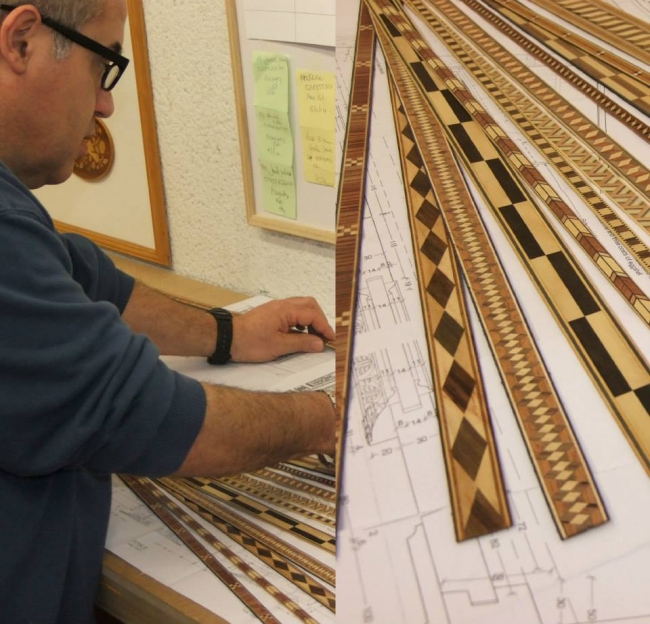 History
Original Marquetry Limited are a family run business, with an Italian background specialising in antique marquetry. Initially founded in Italy by Giovanni and later established in England in 1994 together with Maria. Now, we are one of the UK's leading wood veneer suppliers and marquetry companies!
With 3 generations and over 50 years' experience in the marquetry business covering Italy, USA and the UK, we are confident in our excellent service and fine marquetry inlay designs. Our adroitness in antique marquetry reproductions and marquetry restorations is of the highest level.
We have been involved in projects big and small, often working with Interior Designers for aircraft interiors, hotel receptions, luxury hotel meeting rooms, fashion house displays, marine craft interiors as well as restoration and reproduction projects. Some of the small scale projects include personalised jewellery boxes and miniature inlays with details smaller than a 5 pence coin.
---
Bespoke Marquetry
Styles include Classic Marquetry, French Marquetry, English Marquetry, Boulle Marquetry, Seaweed Marquetry, Arabesque Marquetry and Contemporary Marquetry.
All our marquetry panels and inlays are handcrafted in-house. They follow the antique tradition using professional and traditional woodworking methods such as, fretsaw machine cutting and sand shading to achieve the finest details, without the need of a CNC laser cutting machine. Use Original Marquetry Ltd for your finishing touch and handmade traditionality!
In addition to our standard range, Original Marquetry Ltd can collaborate or assist with specially commissioned one-off designs including bespoke marquetry panels for:
• Interior Designers
• Furniture Manufacturers
• Clock Makers
• Marquetry for Grandfather Clocks
• Cabinet Makers
• Shop Fittings
• Marine Crafts Interiors
• Car Interiors
• Aircraft Interiors
• Marquetry Restorations
• Marquetry Reproductions
• Fretwork
• Logos
• Personalised Bespoke Gifts
---
The Process
This is a general process relating to marquetry panels, it may vary, depending on project specifics.
Design

Every project starts with a design, whether it's one of ours or provided by you.




Materials

We collect the chosen the materials, generally being wood veneers but sometimes can comprise of brass, mother of pearl or abalone.
Cutting

The design is cut in-house and without the use of a CNC laser machine.




Assembling

Details such as sand shading may be added. Next, the cut pieces are carefully assembled by hand and held together using veneer tape. Wood filler is then applied.



Delivery

We carefully package our bespoke marquetry and upon receipt, we recommend unpacking and storing the panels in a cool, dry place. Keep them flat and (if possible) under a weight/press or in clamps until ready for use.
Gluing

We usually provide the marquetry layon only. Therefore the customer would complete the following: The veneer tape side is to be glued uppermost (facing up) and so visible. Once the glue is dry, the veneer tape can be removed by slightly dampening the tape and carefully rubbing it off with a scraper.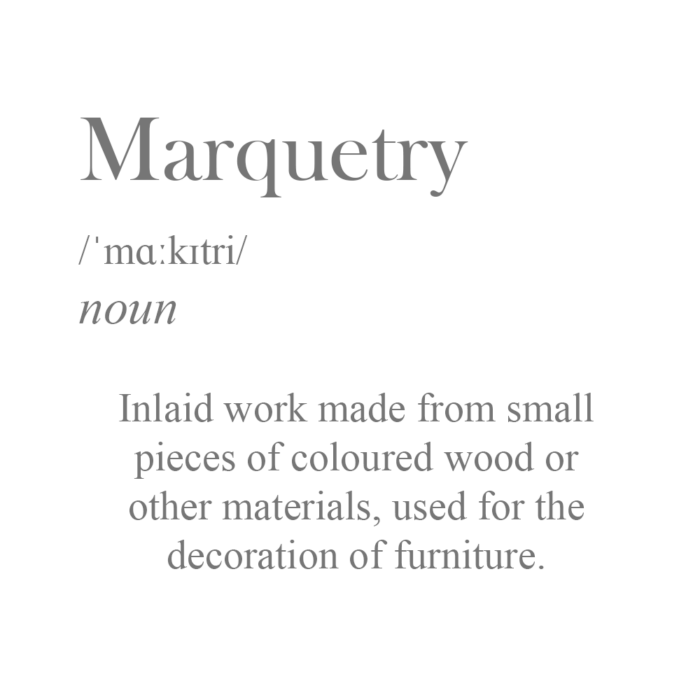 ---
Let's talk!
Got a question?… Maybe our FAQs can help! If you're looking for a quote or need any further information, please get in touch.
Do we have a shop?
Our shop operates mainly via mail order, and so visits to our premises are by appointment only, please contact us to arrange an appointment.
If you are local and wish to collect your order, please wait for us to contact you to confirm when it's ready and when to collect. This is so we can ensure your order is ready before you travel to us.
We pride ourselves on quality and providing an excellent service! But don't just take our word for it!