Original Marquetry Ltd are bespoke marquetry specialists who have had the pleasure of working with a range of customers, crafting marquetry restorations, marquetry reproductions and new bespoke pieces. The projects have varied in theme, style and scale.
Marquetry Wall Panels for a 5-star hotel.
The Lanesborough, London, England.
Exclusively commissioned by BECK Interiors, for the St George's Room at The Lanesborough, a 5-star hotel located in London, England.
400 metres of floor-to-ceiling marquetry panels made using European Oak and Black wood veneer. One of the largest marquetry projects ever produced. Designed by renowned architect, Alberto Pinto, who was inspired by the original style and design of the St George's Room.
We followed through down to the smallest detail, without an error. BECK Interiors were extremely happy with the outcome. We made the panels in-house using the antique tradition of marquetry, in which we specialise. This is where a professional scroll saw machine is used instead of CNC Lasers.
Work-in-progress photos follow below:
Examples of Fine Marquetry
Bespoke Marquetry Chessboard.
Private Client.
This chessboard was commissioned by a private client for a bespoke boat. It measured 1M2. We created this board as per the client's preferences; using 2.0mm thick wood veneers, Indian Rosewood, Mediterranean Olive Tree and Ebony. For a more modern aesthetic, the crossbanding was constructed using a basic butt join instead of the popular mitered butt join.
Oriental Marquetry Panels, Chinese Style for a Console Table.
Private Client.
Especially commissioned marquetry panels featuring a Chinese style design, measuring 36 x 26″ for a console table. Made using Amboyna Burr, Boxwood, Rosewood and Maple wood veneers.
Marquetry.
Private Client.
Pewter and Rosewood wood veneer and Pewter cut using a fretsaw machine and then inlaid together. To be placed on the front of a cabinet.
Marquetry Inlay Banding.
Private Client.
One of our latest examples of bespoke marquetry inlay bandings for a private client in Bermuda. This design was created using Indian Rosewood and Maple wood veneer. It measured 20mm wide and 0.6mm thick.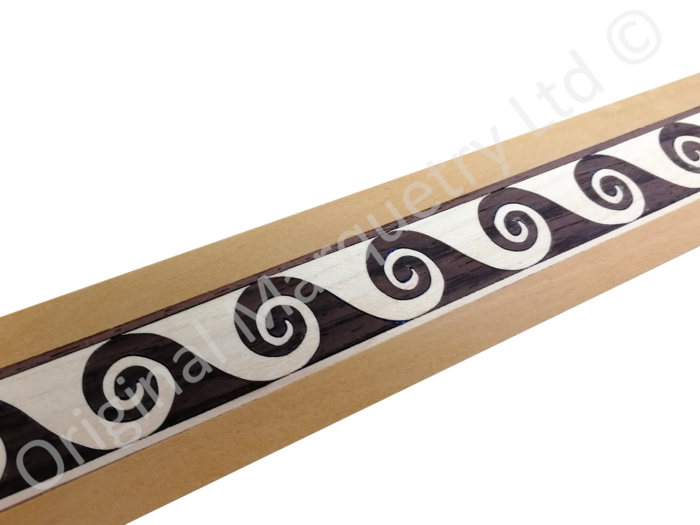 Marquetry Medallions & Compass Star.
Private Client.
Compass rose and nautical medallions for flooring in a large entrance hall. This measured 750mm in diameter and was constructed using 3.0mm thick Oak, Walnut and Maple wood veneers. The panel was then applied to 12mm Plywood and polished, ready for our client to place into their flooring. One of our latest examples of bespoke marquetry for flooring and compass star marquetry.
Bespoke Geometric Marquetry.
Private Client.
Reception Desk Front.
Luxury Hotel in Bath, England.
These marquetry panels were made using Brass & Sapele wood veneer. They are featured on the front of a reception desk in a luxury hotel, in Bath.
Do you need help with a bespoke project?
We can make marquetry to your design.
For bespoke marquetry enquiries, please fill out our contact form or email info@originalmarquetry.co.uk with the below information. We can assist with bespoke marquetry, marquetry restorations, marquetry reproductions, fretwork, marquetry for grandfather clocks, logos or any other unique projects.
We aim to respond within 1 – 3 working days with a quotation.
Dimensions. Note the sizes for both the marquetry and background.
Materials. Include the wood veneer type. Additional materials may include brass, mother of pearl, abalone etc.
Design/Sketches. Attach any relevant photos, designs or sketches. Don't worry if your design is not clear, we can revise it in our design studio.
Quantity. For differing panels, the above information is required for each one.
Project Overview. If you feel it's useful, tell us a little about what you're aiming to do.
Marquetry Panels for a Private Museum Display Stand.
Louis Vuitton, London, England.
These diamond panels were created using traditional marquetry methods and cut from American Walnut, Boxwood and Sycamore wood veneers.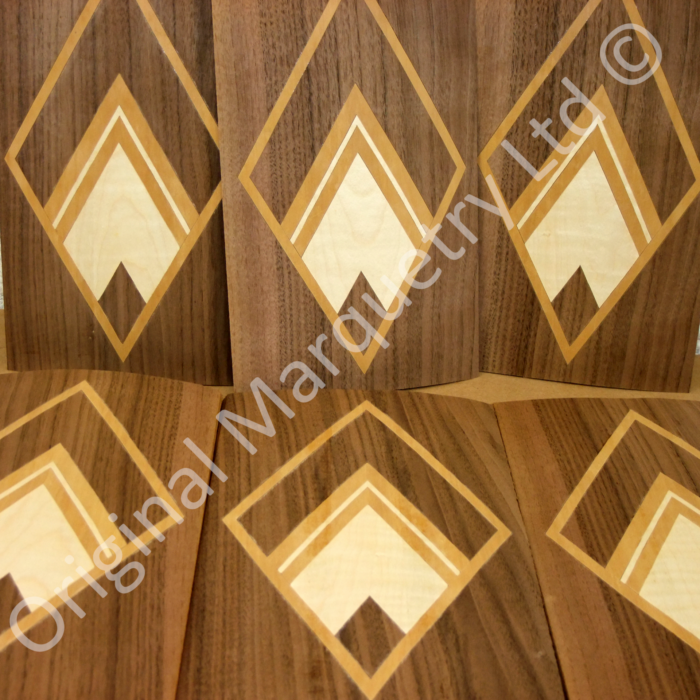 We pride ourselves on quality and providing an excellent service! But don't just take our word for it!